The DLNA Renderer Mode is used to control SoundSeeder remotely via DLNA Controller apps.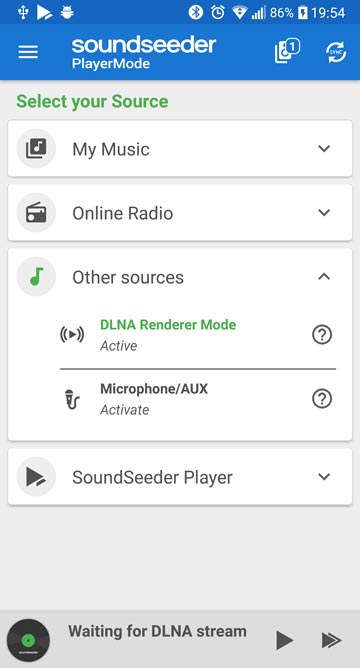 DLNA is a standard technique for sharing digital media among multimedia devices. Is is supported by many apps, audio devices and media servers.
While the DLNA Renderer Mode is active, SoundSeeder can be controlled by any DLNA Controller app in your WiFi network.
Here are some suggestions for compatible DLNA application:
BubbleUPnP
Feature-rich and reliable DLNA application for Android.
AirAudio
Streams all audio from any app on Android via DLNA (free trial, root required) – See "Stream Android System Sound"
Stream What You Hear (SWYH)
Streams the audio output of a Windows PC via DLNA (free) – See "How to stream Windows PC Sound via SoundSeeder"
You can also check this Wikipedia article for further DLNA capable applications.
To access DLNA Media Servers with SoundSeeder, check the DLNA Browser feature.
Disclaimer: These applications were neither developed nor published by us. We are not liable for the quality and legality of these applications or any consequences arising from their use.
Posted in: 2. Usage