SoundSeeder Android applications
The SoundSeeder Music Player is compatible with all Android devices running Jelly Bean or higher (4.1+). This is the full featured SoundSeeder application you are most likely looking for.
Your old Android devices (with Android 2.2 – 4.0) can also be used as wireless speaker, by running the SoundSeeder Speaker app. This is a "speaker-only" version of SoundSeeder to connect to the SoundSeeder Music Player app.
SoundSeeder Speaker for JavaSE
You would like to connect even more speakers to the SoundSeeder Music Player? No problem, the Java version of SoundSeeder supports Windows, MacOS and Linux PCs incl. single-board computers like the Raspberry Pi.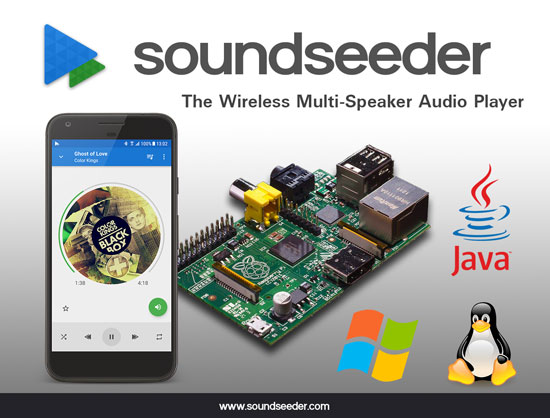 Java Speaker download:
[wpfilebase tag=file id=3 tpl=default]
A short introduction of the Java app is available here.
Please also check the FAQ and our Forums if you need support.
Version history:
[wpfilebase tag=file id=2 tpl=oldversions]
[wpfilebase tag=file id=1 tpl=oldversions]