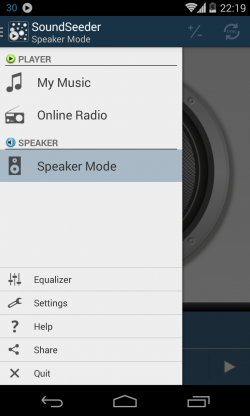 SoundSeeder Speakers can be connected to the SoundSeeder Player, to receive its music and to play it in-sync with the Player.
If your device is running Android 4.1 or higher, install and launch the SoundSeeder Music Player and switch it to "Speaker Mode".
For devices running Android 4.0 or older (v2.2 – v4.0), download and install the SoundSeeder Speaker app. It is a "Speaker-only" version of SoundSeeder for old Android Devices.
Both Apps are available on Google Play.