SoundSeeder can also be used to stream the sound of Windows PCs. You are able to stream music played from Spotify, Youtube or any other third party application to your SoundSeeder Speakers.
Download and install the free application "Stream What You Hear" by Sebastien Warin on your Windows PC. It streams your system sound as mp3 stream via HTTP/DLNA: http://www.streamwhatyouhear.com/download
Start "Stream what you hear" on your PC. Right-click on the tray icon and change the settings to:
MP3, 44100Hz, 16bit Stereo and 320kbit/s
Now connect the PC and your Android device running SoundSeeder to the same (WiFi) network
Start SoundSeeder and open the dlna network browser ("Add Track – Network")
You should now see the "Stream What You Hear" app listed as device. Select it and start the "MP3" audio stream.
SoundSeeder will now play your Windows PC sound.
Please note: The playback via SoundSeeder will be delayed by about 5s. The PC sound can be muted without disturbing the audio stream.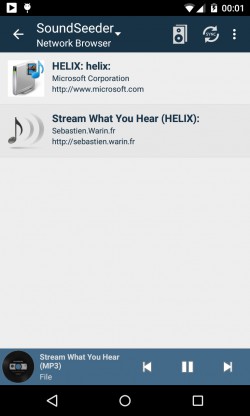 Posted in: 2. Usage